Expert in many markets
Bunzl operates within 6 different markets. With 10 company brands in the Netherlands we offer you expertise in each of these 6 markets. That gives you access to not only your market or discipline, but offers you an easy way to additional or complimentary products and services from other markets. For example, the anti-cut gloves from our safety market which can also be used within your restaurant kitchen, or the cooling elements and matching shipping box which go together with your non-food disposables. You find them all at Bunzl.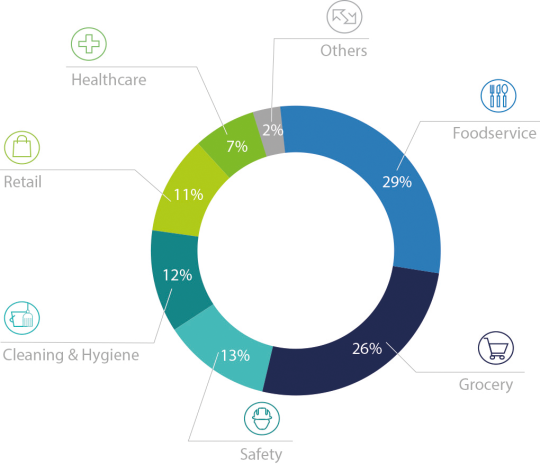 Groceries
Within the Netherlands we service the grocery market via Bunzl Retail & Industry. They offer a broad assortment in products, varying from bread bags to fresh juice bottles, from carrier bag for the end consumer to cleaning and office products. Bunzl Retail & Industry services customers such as Coop, Jumbo and Jan Linders, sustainable cooperations full of innovations.
A proactive market specialist which delivers made measure solutions and products.
Foodservice
Food is a broad market and within the Netherlands we therefor have multiple operating companies which are specialised in this market. Starting with Bunzl Foodservice, the specialist which services restaurants, take aways, hotels and leisure market. With customers such ass Efteling, Citizen M, Vermaat and Deliveroo there is no doubt Bunzl Foodservice know their business. Their proactive attitude and expertise on sustainability makes them a valuable partner for their customers. The assortment of Bunzl Foodservice exists amongst others out of disposables, tableware and hotel cosmetics.
Coolpack too has a link to foodservice. Coolpack delivers cooling elements and cooling gel packs used to ship food on the correct temperature. Also used for specialized cold shipping of medicines and flowers. Important to prevent food waste but also important with an eye on health.
Retail
When talking of retail nowadays we talk about both bricks and e-commerce. on both we have specialist companies within the Netherlands. Starting with Worldpack, supplier of goods not for resale to retailers offline and online throughout Europe. Worldpack delivers products and added value serives to internationally well known brands such as Dyson, Adidas, JD Sports, Scotch & Soda and Vans. Offering them branded products and total outplacement of their non-commercial goods supplychain.
Janssen Packaging has their focus on e-com. With customers such as bol.com, Bijenkorf and Kruidvat their are an established name in this market. From design to the realisation of unique products, together with their customer they research sustainable options to prevent airshpping and using excesive amounts of materials. Of course while containing the quality and rigidness of the product. If you are a Dutchie, for sure you've held a box from Janssen Packaging once!
Safety
Personal protection equipment are within every household nowadays, but even before Covid this market was booming. Safety while executing your work is becoming more and more important. Within the Netherlands we have multiple specialists in this area. Majestic, for instance, offers truly anything related to safety at work. It is their mission to make sure you get to go home safe. Whether is a helmet, fall protection materials, gloves, clothing or mouthmasks, Majestic has it all. Majestic develops their own products as well. By doing so they match their customers specialists needs in the best way possible. So, besides the A-brands they offer, such as 3M, MSA and Havep, their owned brand Oxxa expands daily.
Allshoes too is a specialist in the safety market. The name kind of gives it away, their focus is on safety shoes. Safety shoes used to be a functional item in the past, but nowadays they are a true fashion item on the working floor. Allshoes knows like no other how to combine fashion with safety. Besides a broad scala in brands they sell, they design and sell own brands too. Leading brands such as Redbrick en Grisport are Allshoes'.
Another market where safety is of essence is the market of detained. Not only for prisons and psychiatric institutions, but also in youth care institutions and asylum centres safety is important. De Ridder is the absolute specialist in this niche market. Their broad assortments contains anything from molestation resistant furniture to see-through toothpaste, from made to measure DNA kits to diapers for the tiniest human beings. De Ridder is innovate and flexible in their repsonse to any changing demand from the market and therefore time after time the partner for business to many amongst which the Dutch government.
Health
Since Covid-19 we are all more then aware of the importance of health and preventing contaminations. For the health market this has always been priority number one. King is a constitution within the health market. King is the partner for all facility and medical solutions. Whether you need a mouth mask, cleaning chemicals, sterile instruments of a sustainable coffee cup, King offers it all. Besides their product offer King unburdens their partners to the extend of not only delivering the product but actually placing the product on the shelve. By doing so, their customers can focus on what is important to them: taking care of people!
Cleaning & Hygiene
Quality Services biedt totaaloplossingen op het gebied van hygiëne. Duurzame oplossingen die verder gaan dan het product. De focus ligt op concepten waarbij de cirkel wordt gesloten en het simpele gegeven om de effectiviteit van hun diensten zo hoog mogelijk te maken. Zo verzorgen zij voor vele scholen, bedrijven, zorg- en overheidsinstellingen droogloopmatten en de continue aanvulling en vervanging van de dameshygiëne, zeep, luchtverfrisser en hygiënepapier.